Human performance is the driving force behind safe, efficient, and profitable operations
Typical Aviation Projects
ASAP Report Asessment
New Procedures Implementation Support
Development of Risk Assessment Processes
Independent Human Factors Investigations
Human Error Reduction
Evaluation of New Technology
Job & Task Analysis
Maintenance Event Evaluation
Assessment of Design Alternatives
Training Evaluation
Fatigue Program Evaluation
Understand, Evaluate, Improve
Fort Hill Group is an independent aviation consulting firm equipped to help your organization better understand, evaluate, and improve human performance.
Our unique approach combines in-depth knowledge of commercial aviation with expertise in human factors, systems engineering, safety, and data analytics to provide actionable insights and measurable improvements.
We work directly with our clients to reduce human error, improve human performance, and develop repeatable, consistent risk assessment processes.
Trusted on Complex Problems Across the Aviation Industry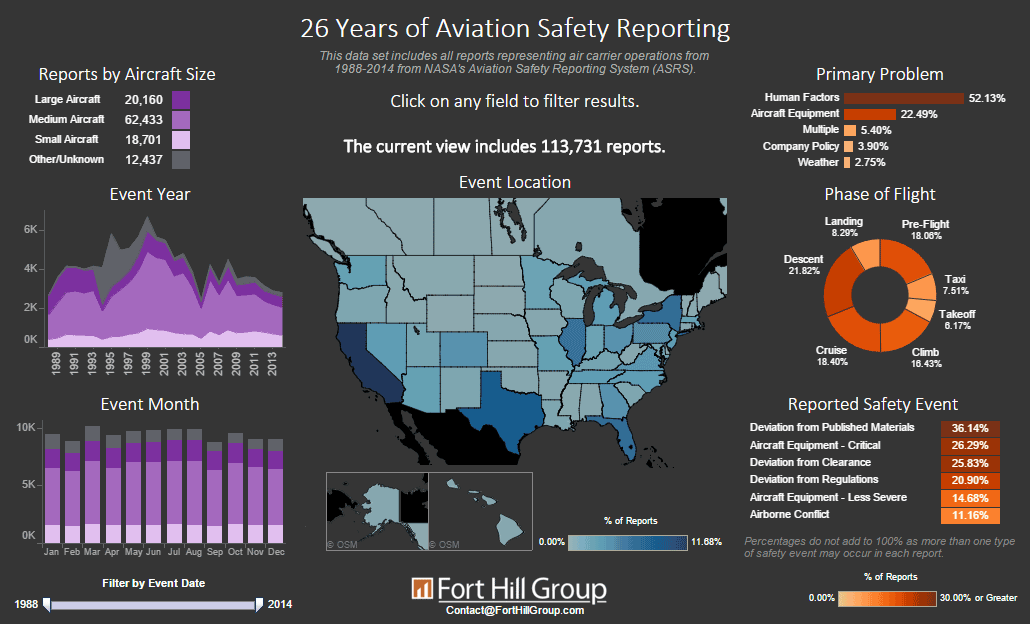 Advanced Analysis & Training Solutions
Human Factors Assessments
Fort Hill Group applies industry-leading techniques and tools to define, measure, analyze, and improve human performance across all aspects of aviation.
Human Error Analysis
Observational Assessment
Performance Evaluation
Usability Assessments
Procedure & Task Analysis
Interactive Analytics
Our team can develop interactive tools that enable analysts and decision-makers to quickly process millions of data elements to provide a real-time operational safety picture.
Safety Intelligence Dashboards
FOQA Visualizaitons
Human Performance Metrics
Interactive Risk Profiles
Risk Monitoring Criteria
Safety Analysis
Fort Hill Group provides independent safety analysis to help your organization better understand and manage your organization's emerging risks, trends, and hazards.
Voluntary Safety Report Analysis - ASAP
Risk Factor Taxonomy Development
Safety Culture Assessment
Safety Department Review
Procedure Review
Training & Workshops
Interactive training courses and directed workshops can improve an organization's safety culture and better equip the organization to analyze and prevent adverse safety events.
Human Factors for Operations
Advanced Human Error Analysis
Safety Culture Assessment & Improvement
Crew Resource Management
Human Performance Assessment Techniques
An Integrated Approach
Fort Hill Group was founded in 2011 to help clients identify and manage the risks associated with human performance in complex systems. Our team applies a cross-disciplinary approach that combines advanced research techniques with aviation expertise to maximize operational impact.
Human Factors Experts
Ph.D. and Master's level researchers with extensive experience applying human factors principles to understand and improve human performance in aviation.
Interactive Development Team
Our in-house interactive team builds and manages our interactive dashboards, training programs, and web-based tools.
Aviation Experts
Experienced Subject Matter Experts representing Commercial Aviation, General Aviation, En Route Air Traffic Control, and Terminal Air Traffic Control.
Safety Analysts
Our team of analysts helps organizations maximize the efficient use of safety data and empowers analysts to target risk mitigations at areas of greatest need.
Internationally Recognized Work
Our team has published over 50 technical reports, peer-reviewed journal articles, and international conference presentations since our inception in 2011.
Partner with Fort Hill Group
Working with Fort Hill Group
Fort Hill Group can help you better utilize your human performance and safety data to make data-driven decisions. Since our founding in 2011 we have been trusted by leading aviation organizations on complex projects.
Fort Hill Group is headquartered in Washington, DC. Our team members' work with clients across the globe to help them better utilize human performance and safety data to make more informed, data-driven decisions.
Contact us below to discuss your needs.
Contact Fort Hill Group to Scehdule an Initial Consultation